2025 Aston Martin Vanquish
Starting at
$300,000
est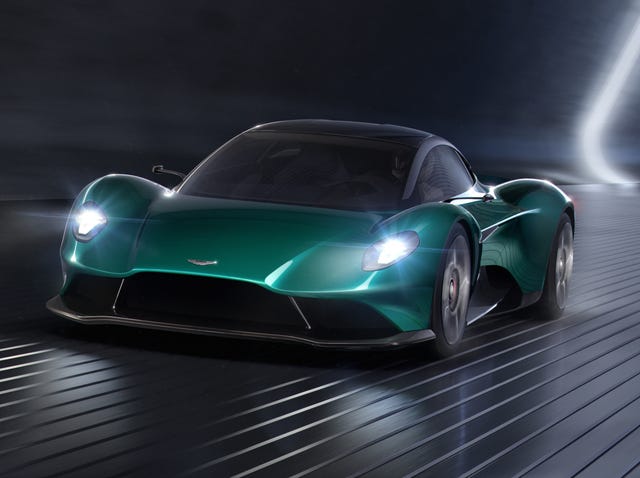 By Eric Stafford
Overview
Aston Martin has a rich history of building high-end, high-performance sports cars with engines in the front, but now it's betting that legacy on a mid-engine future that includes the next-generation Vanquish. This drastic change in philosophy is still a couple of years in the making, but we have a handful of juicy details and lots of hopeful speculation to keep us interested in the meantime. Although the new Vanquish will share its basic layout with the forthcoming Valhalla and Valkyrie hypercars, it won't be limited in production or cost millions of dollars. It will feature a new hybrid V-8 powertrain that the company is sourcing from AMG. With its engine now located behind the driver, the 2025 Vanquish should be more of a match for competitors such as the Ferrari F8 and McLaren 720S.
What's New for 2025?
We know that Aston Martin has plans to introduce a trio of mid-engine models, which include the next generation of the Vanquish. Although we've only seen the Vanquish Vision concept that debuted at the Geneva auto show, and learned small details about Aston using an AMG-sourced V-8 for its hybrid powertrain, there's still a lot left to know about the 2025 Vanquish before it arrives within the next couple of years.
Pricing and Which One to Buy
We'd guess that the next-gen Vanquish will start around $300,000 when it eventually goes on sale. That's a far cry from the seven-figure price tags that will be attached to Aston's mid-engine hypercars, but it's still out of reach for the vast majority of enthusiasts. Although we can't say for sure, there's a good chance the next Vanquish could have a roofless version to compete against the retractable-roof models offered by such rivals as the 720S.
Find your perfect ride!
We're partnering with Carvana because we want to make it easy for you to find the exact vehicle you're looking for.
Finding Inventory
Engine, Transmission, and Performance
Aston Martin will likely be bolting an AMG-sourced twin-turbo 4.0-liter V-8 into the Vanquish, and it'll pair with two electric motors to form a plug-in-hybrid powertrain. That's a change from the hybrid 3.0-liter V-6 that the company had originally planned to be built in-house. While the Vanquish will have a version of the same powertrain found on the Valhalla, we think it's unlikely it'll make the same 937 horsepower. There might even be a chance that Aston offers an all-electric version of the Vanquish. Either way, we expect it to feature a bonded-aluminum spaceframe instead of the carbon-fiber tub that will be used on the company's hypercars. The lack of aggressive aerodynamic technology that adorned the concept suggests this Aston will be more of a grand tourer than its much more expensive track-focused siblings.
Interior, Comfort, and Cargo
The Vanquish nameplate will be entering new territory with the switch to a mid-engine layout. That means everything we've previously known about its interior has gone out the window, and our expectations for its new digs are solely based on speculation. We have heard that its cabin will be roomier than Aston's other upcoming mid-engine hypercars. Apart from the additional passenger space, it's hard to predict how the company will choose to outfit the Vanquish's cabin. There will no doubt be a vast amount of customization options, upscale materials, and racy elements throughout. If there's one thing we can say for sure, it's that the next-generation Vanquish will go without the tiny back seat that was present on its predecessor.
Infotainment and Connectivity
We can only speculate about the infotainment system that might reside inside the Vanquish. While it could be similar to the setup found on the Vantage sports car, which boasts an 8.0-touchscreen that's primarily controlled with a rotary knob on the center console, we think the interface might be more advanced by the time the Vanquish goes on sale. If the Valhalla's infotainment system—or lack thereof—is any indication, Aston might start to focus more on the driving experience and less on built-in touchscreens and mainstream connectivity features.
Safety and Driver-Assistance Features
Aston currently offers a handful of driver-assistance technologies on some of its models, such as the Vantage sports car. That suggests the Vanquish could be available with safety features that include a 360-degree camera system and blind-spot monitoring. For more information about the Vanquish's crash-test results, visit the National Highway Traffic Safety Administration (NHTSA) and Insurance Institute for Highway Safety (IIHS) websites.
Warranty and Maintenance Coverage
Although Aston Martin has a mediocre limited and powertrain warranty, and it leaves out complimentary maintenance altogether, the company does offer extended-coverage plans for those who are willing to spend extra money.
Limited warranty covers three years or unlimited miles
Powertrain warranty covers three years or unlimited miles
No complimentary scheduled maintenance
As more information becomes available, we'll update this story with more details about:
Fuel Economy and Real-World MPG