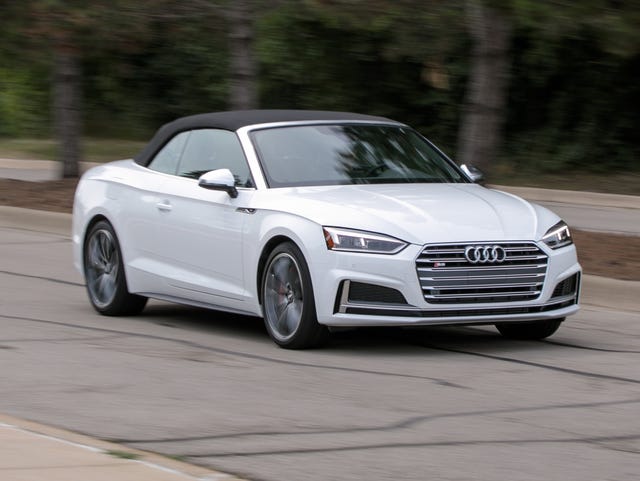 Chris Amos
|
Car and Driver
Highs

Seriously quick, stylish design, upscale interior.

Lows

Poor steering feedback, cramped rear seat, small trunk.

Verdict

The 2018 Audi S5 offers impressive performance and a comfortable, upscale interior wrapped in a sleek design.
Overview
The Audi S5 coupe and convertible are two-door counterparts to the more practical but dowdier S4 sedan, and they offer impressive performance in a slinky uniform. (The new, high-style S5 Sportback is reviewed separately.) All S5s are motivated by Audi's new turbocharged 3.0-liter V-6 engine, which makes a comfortable 354 hp and provides the S5 with plenty of get-up-and-haul. The previously available manual transmission is no more, and power is now routed to all four wheels exclusively through a smooth-shifting eight-speed automatic transmission. Both the coupe and convertible—Audi calls it a cabriolet—exhibit driving characteristics similar to those of their four-door siblings: they are surprisingly detached for such powerful, sporting cars. In day-to-day driving, the S5's comfortable cabins and great-looking exteriors are enough to push their vacant personae to the wayside. However, when back roads beckon, the S5 twins fail to communicate well with the road; a number of their competitors are much better at truly engaging the driver.
What's New for 2018?
The S5 is completely redesigned for 2018 and is once again sold as either a coupe or a convertible. A sleek new S5 Sportback is reviewed separately. Along with the chassis improvements, new sheetmetal, and thoroughly redesigned interior, the S5 features Audi's latest forced-induction V-6 engine. The turbocharged 3.0-liter produces 354 hp and 369 lb-ft of torque—21 horses and 44 lb-ft more than the supercharged V-6 that powered the previous-generation S5 models. Power is routed to all four wheels by way of an eight-speed automatic transmission; the stick-shift S5 is no more.
Pricing
Original MSRP:
S5 Coupe Premium Plus: $58,175
S5 Coupe Prestige: $59,975

S5 Cabriolet Premium Plus: $65,875
S5 Cabriolet Prestige: $67,675
Find your perfect ride!
We're partnering with Carvana because we want to make it easy for you to find the exact vehicle you're looking for.
Finding Inventory
Engine, Transmission, and Performance
The S5 trades in its old 3.0-liter supercharged V-6 for a new turbocharged V-6 of the same displacement. With 354 hp and 369 lb-ft of torque, the new S5 sports 21 more horses in its stable and 44 lb-ft of additional twist compared with the previous engine. No longer offered with a manual transmission, the S5's V-6 is exclusively mated to an eight-speed automatic transmission. Manual control of the transmission is available by way of the thick console-mounted gearshift lever or a pair of flimsy paddle shifters mounted on the steering wheel. The S5 is seriously quick, puts a firm grip on the road, and turns in strong stopping numbers. Too bad it lacks the involved driving character that puts a grip on our hearts. When you put your foot down hard, the all-wheel-drive system enables the S5 to leave the line with authority, free of unnecessary wheelspin. Both titillating two-door S5s we tested were equipped with the optional 19-inch performance tires and the S Sport package, which adds a torque-vectoring rear differential and adaptive dampers. Push the S5 too hard, however, and it defaults to nose-sliding understeer, which dampens the fun a bit. The S5 coupe we tested also came equipped with the $1150 Dynamic Steering option, which quickens the steering the farther the wheel is turned from center. We found the system uncommunicative and unpredictable; we recommend buyers pass on it and go with the S5's standard fixed-ratio steering setup.
Fuel Economy
EPA fuel economy testing and reporting procedures have changed over time. For the latest and most accurate fuel economy numbers on current and older vehicles, we use the U.S. Department of Energy's fueleconomy.gov website. Under the heading "Find & Compare Cars" click on the "Compare Side-by-Side" tool to find the EPA ratings for the make, model, and year you're interested in.
Interior, Comfort, and Cargo
The S5's interior is marked by soft-to-the-touch, expensive-feeling materials, high-quality fit and finish, and an ergonomically friendly design. All in all, it's one of our favorites in its class. Both driver and front passenger are treated to comfortable and roomy power-adjustable seats, while rear-seat riders are left with the bare minimum of acceptable space. Those in need of more rear-seat room should look at the four-door S5 Sportback, which sits on a longer wheelbase and offers more room for rear passengers. Favoring style over versatility, both the S5 coupe and cabriolet feature volumetrically small trunks. Still, both are class competitive. Interior storage space is limited but no worse than in the competition. A narrow center console, a compact glovebox, average-size door pockets, and a sizable storage bin to the left of the steering column are the most noteworthy places for stashing items within the S5's cabin.
Infotainment and Connectivity
Both a dashboard-mounted 7.0-inch infotainment screen and a separate 7.0-inch screen in the gauge cluster are standard on the S5 Premium Plus. Opting for the $2600 Navigation package or stepping up to the S5 Prestige trim adds an 8.3-inch center console infotainment screen with an in-dash navigation system, as well as a 12.3-inch digital gauge cluster screen that Audi calls Virtual Cockpit. Although the standard infotainment system can't be paired with in-dash navigation, it is Apple CarPlay and Android Auto compatible, offers voice control, and includes Bluetooth phone and audio. Navigation is included with the upgraded infotainment system, which includes a larger 8.3-inch screen on the dash and a 12.3-inch digital gauge cluster.
Safety Features and Crash Test Ratings
For more information about the Audi S5's crash-test results, visit the National Highway Traffic Safety Administration (NHTSA) and Insurance Institute for Highway Safety (IIHS) websites.
Warranty
Some older vehicles are still eligible for coverage under a manufacturer's Certified Pre-Owned (CPO) program. For more information visit our guide to every manufacturer's CPO program.