2022 Ferrari Purosangue
Starting at
$350,000
est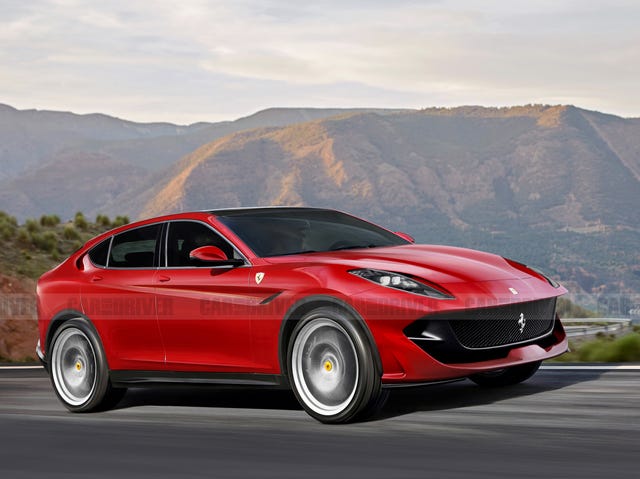 Illustration by Christian Schulte
|
Car and Driver
By Drew Dorian
Overview
We never thought we'd see the day where a Ferrari SUV became a reality, but in the wake of successful high-dollar, high-performance sport-utes, the stage is set for the 2022 Ferrari Purosangue. This news comes despite the company's past messaging that an SUV has no place in the lineup. Expect to need a hedge-fund manager's salary to afford such a ride, of course; prices could start as high as $350,000. A high-performance SUV with Ferrari's prancing horse badge on the grille won't ruin the brand, though. After all, successful iterations of the concept have served sports-car brands such as Porsche and Lamborghini quite well. We've seen camouflaged mules running around for testing and even some spy photos from Instagram's CocheSpias, so the reveal of the production Purosangue can't be far off.
What's New for 2022?
When the Purosangue finally hits the market—likely in 2022—it will be a new model for the Ferrari lineup as well as the Italian supercar-maker's first SUV.
Pricing and Which One to Buy
We aren't sure yet what features—standard or optional—will be available on the Purosangue, so it's impossible to suggest anything specific. Ferrari will release more details closer to the SUVs on-sale date.
Find your perfect ride!
We're partnering with Carvana because we want to make it easy for you to find the exact vehicle you're looking for.
Finding Inventory
Engine, Transmission, and Performance
We aren't sure what will be under the hood, but the Purosangue might get either a turbocharged V-8 or a mighty V-12 engine like that of Ferrari's legendary supercars. All-wheel drive is a given, and we wouldn't be surprised to see electrification in the form of a hybrid system either; Ferrari had a 950-hp, V-12 hybrid powertrain in its LaFerrari hypercar back in 2014. One thing's for sure: It'll be powerful. The Purosangue will enter the horsepower wars against the 626-hp Bentley Bentayga, the 641-hp Lamborghini Urus, and the Aston Martin DBX, which is powered by a 542-hp V-8 engine supplied by the powertrain geniuses at Mercedes-AMG.
Fuel Economy and Real-World MPG
Even if the Purosangue gets a hybrid powertrain, we don't expect it to be a leader in fuel efficiency. Ferrari's focus on performance means whatever gains the powertrain can eke out from the help of electric motors will contribute to acceleration rather than fuel economy. If the Purosangue offers non-hybrid engines, kiss your gas money goodbye. For context, both the Urus and the 12-cylinder Bentayga earn ratings of 12 mpg city, 17 mpg highway, and 14 mpg combined. We expect something similar out of the Purosangue.
Interior, Comfort, and Cargo
No concept photos of the interior have been released, so we have no idea what the cabin of the Purosangue will be like, but we'd expect a driver-focused layout with room for four adults and a decent-size cargo bay. Gorgeous leather and real carbon-fiber trim will likely adorn every inch of the Ferrari SUV's sumptuous interior. More information will surely leak out in the months leading up to the Purosangue's launch in 2022.
Infotainment and Connectivity
Recent additions to the Ferrari lineup—the Roma and F8 Tributo—have differed in their approach to in-car infotainment. Where the Tributo handles all such controls and features through a digital display in the gauge cluster—with an optional 7.0-inch display for the passenger—the Roma offers a more traditional infotainment screen mounted vertically on the center of the dashboard. We can't say with any certainty which way the Purosangue will go, but it will certainly offer navigation standard.
Safety and Driver-Assistance Features
Not only has the Purosangue not been crash tested by the National Highway Traffic Safety Administration (NHTSA) or the Insurance Institute for Highway Safety (IIHS), it likely never will be. Neither of those agencies pursue tests of high-dollar niche vehicles. We expect Ferrari to offer a host of driver-assistance features, though. Key safety features are likely to include:
Available automated emergency braking with pedestrian detection
Available lane-departure warning with lane-keeping assist
Available adaptive cruise control
Warranty and Maintenance Coverage
While Ferrari's warranty isn't as generous as Bentley's or Aston Martin's, both of which offer unlimited mileage, buyers of the Purosangue will find that maintenance is covered for an unprecedented seven years.
Limited warranty covers 3 years or 36,000 miles
Powertrain warranty covers 3 years or 36,000 miles
Complimentary maintenance is covered for 7 years or unlimited miles