2023 BMW M2
Starting at
$60,000
est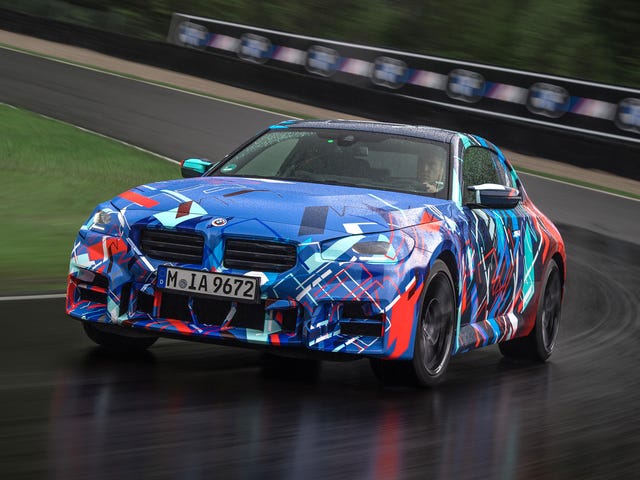 By Eric Stafford
Overview
With rear-wheel drive and an available manual transmission, the 2023 BMW M2 is expected to preserve its predecessor's delightful driving behavior. While it shares bones with the regular BMW 2-series, the newest generation of the M2 is once again intended to provide maximum performance. Not only will it have a more distinctive appearance and a specially tuned chassis, but its twin-turbocharged inline-six should exceed the 405 horsepower made by the outgoing M2 Competition. Along with a manual gearbox, the 2023 M2 will also offer an eight-speed automatic. As for the rest of the details about the two-door coupe? Well, we'll just have to wait for BMW to reveal them.
What's New for 2023?
With the regular BMW 2-series recently entering a new generation, it was only a matter of time until its higher-performance counterpart—the M2—followed suit. Although we currently have limited information about the next-gen M2, we know that it'll still have a rear-wheel-drive layout and feature a twin-turbocharged inline-six.
Pricing and Which One to Buy
BMW hasn't said how much the 2023 M2 will cost, but it will almost certainly be more expensive than its predecessor, which had a starting price of $59,895 for the 2021 model year. Once BMW releases more details, including trim levels and available features, we can recommend which one to buy.
Engine, Transmission, and Performance
The new M2's engine will be a twin-turbo inline-six, but it's expected to be more powerful than the outgoing version, which featured a 3.0-liter with 405 horsepower on the Competition model. If we had to guess, we'd say the new engine will make somewhere in the mid-400-hp range. Feeding the new M2's rear wheels will be either a six-speed manual or an eight-speed automatic. Of course, it wouldn't be an M car without a specially tuned suspension and various other chassis enhancements that help it be the quickest version of the 2-series to circle a racetrack. We had a chance to test drive a prototype M2 on a racetrack in Austria, but sadly our experience was cut short by heavy rainfall. When we get a chance to drive the M2 again, we'll update this story with driving impressions and more powertrain details.
As more information becomes available, we'll update this story with more details about:
Fuel Economy and Real-World MPG
Interior, Comfort, and Cargo
Infotainment and Connectivity
Safety and Driver-Assistance Features
Warranty and Maintenance Coverage
This content is imported from Third party. You may be able to find the same content in another format, or you may be able to find more information, at their web site.