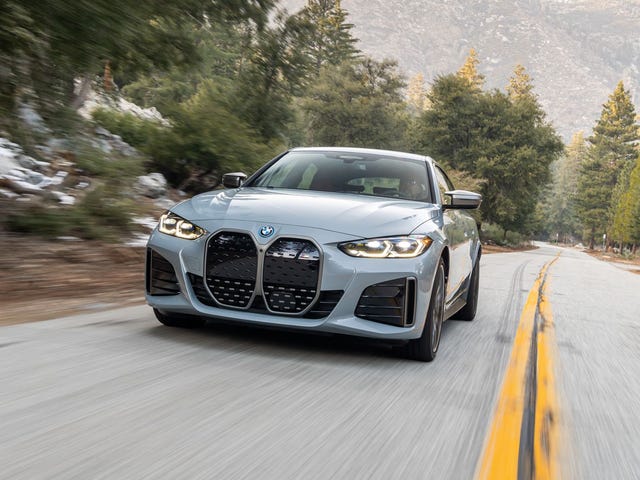 Jessica Lynn Walker
|
Car and Driver
Highs

M50 is quicker than an M3 with a better ride-handling balance, practical hatchback body style.

Lows

Somber steering, eDrive35 and M50 models lack range, can we tone down the artificial soundtrack, please?

Verdict

Inside the i4's traditional BMW body lives an impressive EV powertrain and one of the brand's better chassis, which gives us hope that the all-electric future will be exciting.
Overview
The all-electric BMW i4 sedan is an important piece of BMW's expanding EV portfolio. It offers the style of the 4-series Grand Coupe with a battery powertrain and highly refined road manners. There are three distinct i4 flavors: The first two use are single motor rear-drive, with the eDrive35 offering 281 horsepower and 260 miles of EPA range, while the eDrive40, produces 335 horsepower with an estimated 300 miles of driving. That figure drops to 245 miles in the spicy, all-wheel-drive, 536-hp i4 M50. The latter drives like a better-riding M3, which is a mega compliment. The M50 reaches 60 mph in just 3.3 seconds, 0.2 seconds than an M3 Competition, and it can jump from 50 to 70 mph in just 2.0 seconds—0.7 seconds quicker than the Bimmer. When not performing ab-exercising acceleration runs, the i4 is an admirable daily driver. Although it lacks the steering feedback we prefer in other M cars, it's an exciting and refined sedan with a supple ride and deeply satisfying sports-sedan handling.
What's New for 2023?
As the BMW i4 debuted just last year, the 2023 i4 receives only minor options changes. A new, entry-level eDrive35 model joins the lineup and uses a smaller 66.0-kWh battery pack to achieve a claimed 260-mile range. BMW's M 50 Years special emblems are offered on the i4 M50. The 18-inch M Bi-color Midnight Grey wheels with all-season tires are no longer offered. The Iconic Sounds Electric option— which enables a variety of synthesized sounds played through the car's speakers and coordinated with its acceleration—will be sold separately from the Premium package.
Pricing and Which One to Buy
We prefer the higher-performance M50 over the less expensive–and less powerful–eDrive35 and eDrive40 trims. The M-badged model comes standard with a more assertive appearance that includes 19-inch wheels. It also has a beautifully tuned suspension that revels in aggressive driving but is calm and comfortable around town. Upgraded brakes with blue calipers are also included on the M model. We like the look of the optional 20-inch rims and the improved performance of their wider, stickier tires, but they drop the M50's estimated driving range from 270 to 227 miles. We'd enhance the interior with one of the vernasca leather options, the Premium package (ambient interior lighting, heated seats and steering wheel, lumbar support), and individual options such the adaptive LED headlights, ventilated front seats, Harman Kardon sound system, and wireless charging.
EV Motor, Power, and Performance
The 2023 i4 feeds electrons to either one or two electric motors, depending on the model. The eDrive35 is one of two single-motor rear-drive options, using a 281 horsepower unit. The eDrive40 features a single motor on the rear axle that makes 335 horsepower. The M50 has an electric motor on both axles, which together provide all-wheel drive and produce 536 horsepower and 586 pound-feet. The M50 we tested hit 60 mph in 3.3 seconds, which is quicker than a rear-drive M3 Competition. The rear-drive i4 rolls on a standard set of 18-inch rims; 19-inchers are optional. Conversely, the all-wheel-drive M50 is fitted with either 19s or 20s, and it has adaptive dampers and a variable-ratio steering system. The i4 M50 that we drove delivered immediate and forceful thrust, and even though it weighs considerably more than an M3, its lower center of gravity helps it move assuredly and gracefully.
Range, Charging, and Battery Life
BMW says the single-motor, rear-drive i4 eDrive40 has the ability to travel up to around 300 miles on a full battery. The dual-motor, all-wheel-drive M50 has the same 81.5-kWh battery, but its claimed range tops out at 245 miles. These i4 models have a 200-kilowatt charging capacity that can add between 88 and 108 miles in just 10 minutes. The entry-level eDrive35 model comes with a smaller 66.0 kWh net capacity battery which is said to deliver around 260 miles of range and maxes out at 180 kW charging speeds. Using the Level 2 (up to 11 kW) onboard charger, the i4 can recharge its battery from zero to 100 percent in less than 8 hours.
Fuel Economy and Real-World MPGe
According to the EPA, the most efficient i4 model is the eDrive40 with the standard 18-inch wheels. That model earned ratings of 109 MPGe city and 108 MPGe highway. Adding the larger 19-inch wheels drops those figures slightly, and the more powerful M50 model is rated lower too. While we haven't put every i4 through our 75-mph highway route, which is part of our extensive testing regimen, to determine its real-world efficiency, an i4 eDrive 40 Gran Coupe we tested scored 280 miles of range. Just two miles short of its EPA estimate. For more information about the i4's efficiency ratings, visit the EPA website.
Interior, Comfort, and Cargo
Inside, the i4's cabin is richly appointed, including the availability of rose gold trim, white leather upholstery, and light wood trim. The general layout is similar to what's seen in other BMW models, but the i4–along with the all-electric iX SUV–is the first to have a massive, seamless display that spans almost two-thirds of the dashboard. The four-door i4 has a dramatic rear roofline that imitates a coupe-like profile, but it has a traditional trunk in the back.
Infotainment and Connectivity
The i4 is one of the first BMWs to feature the company's latest infotainment system and connectivity features. Called iDrive 8, it operates through a 14.9-inch touchscreen that's integrated with a 12.3-inch digital instrument panel on a huge curved display on the dashboard. Along with a rotary controller on the center console, the system offers advanced voice commands and myriad popular features. These include Apple CarPlay, Android Auto, and a Wi-Fi hotspot.
Safety and Driver-Assistance Features
The 2023 i4 offers a variety of standard and optional driver-assistance technology. For more information about the Bimmer's crash-test results, visit the National Highway Traffic Safety Administration (NHTSA) and Insurance Institute for Highway Safety (IIHS) websites. Key safety features include:
Standard forward-collision warning and automated emergency braking
Standard lane-departure warning and lane-keeping assist
Available adaptive cruise control with stop-and-go technology
Warranty and Maintenance Coverage
BMW currently offers a competitive warranty that includes one of the better complimentary maintenance periods.
Limited warranty covers four years or 50,000 miles
Powertrain warranty covers eight years or 100,000 miles
Complimentary maintenance is covered for three years or 36,000 miles
Specifications
Specifications
2022 BMW i4 eDrive40
Vehicle Type: rear-motor, rear-wheel-drive, 5-passenger, 4-door hatchback
PRICE
Base/As Tested: $56,395/$64,820

POWERTRAIN
Motor: current-excited synchronous AC
Power: 335 hp @ 8000–17,000 rpm
Torque: 317 lb-ft @ 0–5000 rpm
Battery Pack: liquid-cooled lithium-ion, 81.5 kWh
Onboard Charger: 11.0 kW
Transmission: direct-drive
CHASSIS
Suspension, F/R: struts/multilink
Brakes, F/R: 13.7-in vented disc/13.6-in vented disc
Tires: Hankook Ventus S1 evo3
F: 245/40R-19 98Y ⋆
R: 255/40R-19 100Y ⋆
DIMENSIONS
Wheelbase: 112.4 in
Length: 188.5 in
Width: 72.9 in
Height: 57.0 in
Passenger Volume: 90 ft3
Trunk Volume: 10 ft3
Curb Weight: 4699 lb
C/D TEST RESULTS
60 mph: 4.8 sec
100 mph: 11.9 sec
1/4-Mile: 13.4 sec @ 106 mph
Results above omit 1-ft rollout of 0.3 sec.
Rolling Start, 5–60 mph: 5.1 sec
Top Gear, 30–50 mph: 2.0 sec
Top Gear, 50–70 mph: 2.9 sec
Top Speed (gov ltd): 115 mph
Braking, 70–0 mph: 169 ft
Braking, 100–0 mph: 345 ft
Roadholding, 300-ft Skidpad: 0.87 g
C/D FUEL ECONOMY
Observed: 108 MPGe
75-mph Highway Driving: 107 MPGe
75-mph Highway Range: 280 mi
EPA FUEL ECONOMY
Combined/City/Highway: 99/100/98 MPGe
Range: 282 mi
2022 BMW i4 M50
Vehicle Type: front- and rear-motor, all-wheel-drive, 5-passenger, 4-door hatchback
PRICE
Base/As Tested: $66,895/$76,670

POWERTRAIN
Rear Motor: synchronous AC, 308, 295 lb-ft hp
Combined Power: 536 hp
Combined Torque: 586 lb-ft
Battery Pack: liquid-cooled lithium-ion, 81.5 kWh
Onboard Charger: 11.0 kW
Transmissions: direct-drives
CHASSIS
Suspension, F/R: struts/multilink
Tires: Pirelli P Zero Elect PZ4
Brakes, F/R: 14.7-in vented disc/13.6-in vented disc
F: 255/35R-20 97Y ★
R: 285/30R-20 99Y ★
DIMENSIONS
Wheelbase: 112.4 in
Length: 188.5 in
Width: 72.9 in
Height: 57.0 in
Passenger Volume: 90 ft3
Cargo Volume: 10 ft3
Curb Weight: 5063 lb
C/D TEST RESULTS
60 mph: 3.3 sec
100 mph: 8.0 sec
1/4-Mile: 11.7 sec @ 120 mph
Results above omit 1-ft rollout of 0.2 sec.
Rolling Start, 5–60 mph: 3.5 sec
Top Gear, 30–50 mph: 1.5 sec
Top Gear, 50–70 mph: 2.0 sec
Top Speed (gov ltd): 127 mph
Braking, 70–0 mph: 154 ft
Braking, 100–0 mph: 308 ft
Roadholding, 300-ft Skidpad: 0.97 g
C/D FUEL ECONOMY
Observed: 83 MPGe

EPA FUEL ECONOMY
Combined/City/Highway: 80/79/80 MPGe
Range: 227 mi