2025 Cadillac Celestiq
Starting at
$300,000
est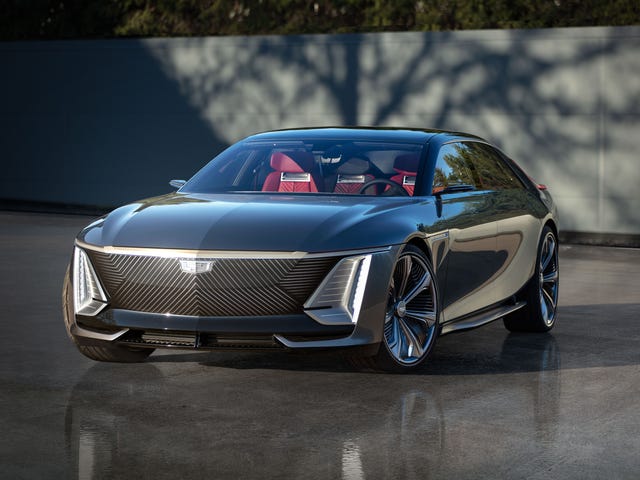 By Drew Dorian
Overview
Cadillac is tired of being in the shadow of European luxury brands, so it has pulled out all the stops on its new electric flagship, the Celestiq sedan. This stunner shares a family resemblance to the Lyriq SUV, but its sleek lines, sweeping roof, and bustled rear end give it more dynamic proportions and jaw-dropping presence. Cadillac's designers have incorporated elements from the past alongside high-tech offerings that they say predict the future of the storied American luxury brand. The cabin is just as dramatic as the exterior styling, and this show car dazzles with bright red leather upholstery, a 55-inch digital dashboard, and Eames-inspired bucket seats. But don't think that this is all just concept-car frippery: Cadillac says the Celestiq concept is what buyers will actually get when the production model starts rolling off the assembly line. That assembly line, by the way, will be manned by a small team of craftspeople who will hand-build each model. Customers will design their own Celestiq when they order, similar to the Rolls-Royce method of manufacturing. All of that, plus the Celestiq's electric powertrain, are sure to make it a Cadillac that won't sit in anyone's shadow.
What's New for 2025?
The Celestiq is heading for production as an all-new model for the Cadillac lineup, but we won't start seeing showstoppers like this for a few more years. When it does go on sale, don't expect to see the Celestiq in your local Cadillac showroom as they'll all be bespoke tailored for each individual customer.
Pricing and Which One to Buy
The Celestiq will be a unique model in the Cadillac lineup for several reasons, not least of which is the fact that each one will be built to order, and numbers will be limited. Cadillac says the sky's the limit for customization, so we'd encourage you to use that to your advantage when ordering your Celestiq and create something that will turn heads now and when the car turns up at a future Pebble Beach Concours d'Elegance. Although Cadillac has yet to release pricing information for its new flagship sedan, reports say the Celestiq could cost around $300,000 to start, and customization choices will definitely push the price even higher.
EV Motor, Power, and Performance
Cadillac hasn't released much information on the Celestiq's powertrain yet, but the company has said in the past that the flagship sedan will offer both all-wheel drive and four-wheel steering. That likely means two electric motors—one per axle—and similar accelerative performance to the Tesla Model S and the Porsche Taycan. Rather than a sports sedan in the same vein as the CT5-V Blackwing, we expect the Celestiq to take a tamer, more comfort-oriented approach with its road manners. It will be a while before we are able to test-drive the Celestiq, but when we do we'll update this story with driving impressions and test results.
Range, Charging, and Battery Life
The Celestiq will draw its electrons from an Ultium battery pack that could be as large as 100.0 kWh. The Lyriq SUV offers such a battery, and judging by that, the Celestiq's driving range should be at least 300 miles per charge. GM has squeezed even larger Ultium batteries into other models, such as the GMC Hummer EV, so it's possible the Celestiq will have even more capacity for range. For reference, the Model S's longest driving range is a whopping 402 miles, and the Lucid Air sedan boasts a range of up to 516 miles.
Fuel Economy and Real-World MPGe
There's no information yet about the Celestiq's fuel-economy ratings, and we likely won't know for some time just how efficient this electric luxury sedan will be. For more information about the Celestiq's fuel economy, visit the EPA's website.
Interior, Comfort, and Cargo
Starting with a dashboard that is essentially one giant digital display, the Celestiq's cabin is a technological powerhouse. Four bucket seats mean each occupant will enjoy their own bubble of space. The roof is made from a glass panel that can be adjusted from transparent to opaque, and every passenger can control their own little corner of the sky. Soft leather, available in practically any color, lines much of the cabin, and other interesting materials are used throughout as accents. Brushed metal trim intermingles with ecologically sourced open-pore wood, which has been perforated to allow sparkles of light to shine through from the ambient interior lighting system. The cargo area, which is also lined with leather, is generously sized and features attractive metal inlays on the floor.
Infotainment and Connectivity
Most luxury cars boast large infotainment displays measuring 10.3 or 12.3 inches in diameter, but the Celestiq is straight out of the future with a 55.0-inch touchscreen that spans the entire length of the car's dashboard. Rear-seat occupants can also enjoy their own large displays for watching movies, checking the internet, or controlling the car's stereo system. Speaking of stereo, we expect Cadillac to continue its partnership with premium audio supplier AKG, and such a system could incorporate speakers inside each of the headrests like it does in the latest Escalade SUV.
Safety and Driver-Assistance Features
Cadillac hasn't given specifics on driver-assistance features yet except to say that the Celestiq will feature the next generation of GM's Super Cruise hands-free driving technology, a feature the company is calling Ultra Cruise. We expect it to be standard by the time the car reaches the market. Other more basic driver-assists are likely to be standard as well. For more information about the Celestiq's crash-test results, visit the National Highway Traffic Safety Administration (NHTSA) and Insurance Institute for Highway Safety (IIHS) websites. Key safety features are likely to include:
Standard automated emergency braking with pedestrian detection
Standard lane-departure warning with lane-keeping assist
Standard adaptive cruise control with hands-free driving mode
Warranty and Maintenance Coverage
Like the rest of the Cadillac lineup, the Celestiq will come with a powertrain warranty that trumps that of other luxury sedans. Cadillac currently covers the first dealer maintenance visit, but rivals such as the BMW 7-series offer longer periods of free maintenance. We would expect that the Celestiq's battery warranty will match that of the Chevy Bolt's at eight years or 100,000 miles.
Limited warranty covers four years or 50,000 miles
Powertrain warranty covers six years or 70,000 miles
Electric components are covered for eight years or 100,000 miles
Complimentary maintenance is covered for the first visit
This content is imported from Third party. You may be able to find the same content in another format, or you may be able to find more information, at their web site.