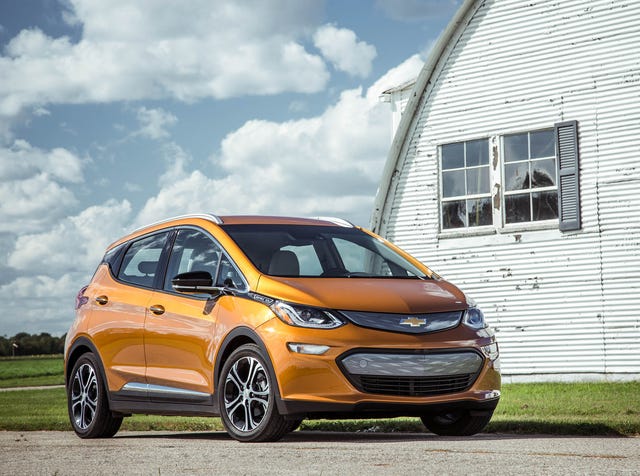 Michael Simari
|
Car and Driver
Highs

Sprightly acceleration, long driving range, spacious cabin.

Lows

Dorky styling, cheap interior materials, gets costly with key options.

Verdict

A pioneer among electric cars thanks to its affordability, practicality, and long driving range.
By Eric Stafford
Overview
The Chevy Bolt EV is the benchmark for mainstream electric vehicles (EVs), with an impressive 238 miles of range for a relatively inexpensive price when compared with models such as the Tesla Model 3. While the hatchback lacks the visual panache of many eco-friendly alternatives, its immense practicality and cutting-edge technology outweigh any superfluous aesthetics. Still, the Chevy's cheap-looking interior materials and mostly minimalistic features are at odds with its $30,000-plus starting price. But the Bolt doubles down on its electric powertrain, which provides immediate acceleration and nearly twice the range of similarly priced EVs. What's more, it also drives and rides exceptionally well for what it is—we'd even call it fun. Until another EV emerges that checks all the same boxes, the Bolt remains the best everyday electric car on the market today. For 2020, the Bolt gets an EPA-estimated range of 259 miles, up from 238.
What's New for 2019?
The Bolt receives minor updates for 2019 that improve the user experience. The charge-termination feature now has more selectable levels at which you can choose to stop charging. This helps reduce charging costs when only a small amount of range is required. Chevy also revised its Low driving mode to keep the Bolt from moving when stopped and the seatbelt is unbuckled. And, as in previous model years, if the door is opened in this scenario, the car will automatically shift into park. The touchscreen now offers separate buttons for air conditioning and heat. New paint colors include Green Mist, Slate Gray, and the eye-popping Shock—which looks like lime-green alien acid. Inflating the tires is easier with a tire-fill alert that announces when the correct pressure is reached.
Pricing and Which One to Buy
Find your perfect ride!
We're partnering with Carvana because we want to make it easy for you to find the exact vehicle you're looking for.
Finding Inventory
The Bolt's affordability is a paramount part of its appeal, so we'd keep it simple by sticking with the base LT model rather than the ritzier Premier. The LT comes standard with features such as a 10.2-inch touchscreen with Apple CarPlay and Android Auto, proximity-key entry and push-button start, and 4G LTE with mobile Wi-Fi. The LT model offers two affordable option packages that we'd choose: the Comfort and Convenience package (includes heated front seats and steering wheel) and the Driver Confidence package (blind-spot warning, rear cross-traffic alert, rear parking sensors). We'd also add DC fast-charging capability. Some states offer additional rebates, tax credits, and other incentives to EV buyers as well. Here's our explanation of how the EV tax credit works.
Powertrain, Charging, and Performance
Likes: Zippy acceleration, affordable fast-charging option, firm brake pedal and fun-to-use brake-regen paddle.
Dislikes: Locations of fast-charging stations are scattered, minimal steering feedback from the road.
The Bolt's electric motor provides instantaneous response to accelerator inputs and ample low-end torque that lets you scoot ahead when the light turns green. Responses are less immediate at highway speeds, but the electric Chevy still makes passing and merging on the highway a cinch. While it takes about nine hours to fully charge the Bolt's battery using a 240-volt outlet, the fast-charging option can add roughly 90 miles of range every 30 minutes—provided a Level 3 charging station is nearby or installed at home. While it remains one of the quickest electric vehicles for the money, pricier alternatives such as the Tesla Model 3 prove how quick a small EV can be.
With a composed ride and plenty of power, the Bolt will challenge whatever negative preconceptions you might have of electric cars. It rides firmly without introducing harsh impacts into the cabin. Steering is quick and accurate, but we'd prefer more feedback from the road. Its brake pedal is firm and provides above-average stopping power, but the regenerative braking system that recharges the battery when you lift off the accelerator means you can drive in most scenarios without ever touching the brake pedal. A paddle on the left side of the steering wheel allows for increased on-demand regenerative braking and can stop the car completely.
Fuel Economy and Real-World MPG
The Bolt boasts an EPA-rated range of 238 miles on a full charge—more than twice the range of other similarly priced electric vehicles such as the Volkswagen e-Golf. While the Tesla Model 3 Long Range can travel up to 310 miles on one charge, it costs considerably more. The Bolt achieved 102 MPGe in our real-world highway fuel-economy test, giving an expected highway range of 180 miles. That's well short of the EPA-estimated range of 238 miles, but our test includes only highway driving, so expect significantly more range if you stick to lower speeds around town. Its range-estimator gauge, which updates constantly as you drive, is extremely accurate. In other tests of Bolts we've found that, in mixed driving, we had no problem achieving the EPA's estimated range in the real world. The 2020 Bolt gets an EPA-estimated range of 259 miles.

Interior, Infotainment, and Cargo
Likes: Lofty seating position imitates crossovers, colorful and configurable touchscreen, upright proportions allow ample cargo room.
Dislikes: Thinly padded front seats, touchscreen is slow to respond to user inputs, Toyota Prius Prime has more back-seat cubby storage.
Although spacious and practical, the Bolt's interior quality and appearance don't befit its $30,000-plus price point. Hard plastics abound inside, although Chevy added some interestingly textured materials to spice up the dashboard. At least the digital displays in the instrument cluster and central touchscreen look crisp and modern. Power-adjustable seats are not available. Generous front and rear passenger space make the Bolt very comfortable for four and even decently spacious for five.
Its large central touchscreen is well organized and easy to operate, but it isn't as quick to respond to user inputs as we'd like. Built-in navigation isn't available in the Bolt. You'll have to rely on your smartphone for directions; luckily, Apple CarPlay and Android Auto are both standard. Several useful EV-specific menus allow you to delve deeply into information such as battery-energy usage and remaining range.
The Bolt is nearly as practical as your average small crossover, with enough cargo space to hold five carry-on bags behind the rear seat. There's a useful compartment directly behind the electronic shifter that's perfectly sized for a smartphone, and the center console is generously proportioned.
Safety and Driver-Assistance Features
The Bolt earned a five-star rating from the National Highway Traffic Safety Administration but only average results from the Insurance Institute for Highway Safety. The all-electric hatchback is also available with several driver-assistance technologies, such as automatic high-beam headlights and rear parking sensors. Other key safety features include:
Available forward-collision warning and automated emergency braking
Available lane-departure warning and lane-keeping assist
Available blind-spot monitor and rear cross-traffic alert
Warranty and Maintenance Coverage
As with most hybrids and EVs, Chevrolet provides extra coverage for some of the Bolt's electric-powertrain components. Chevy also includes the first maintenance visit for free, but overall coverage doesn't come close to that of the Kia Soul EV.
Limited warranty covers 3 years or 36,000 miles
Powertrain warranty covers 5 years or 60,000 miles
Hybrid components are covered for 8 years or 100,000 miles
Complimentary maintenance is covered for 2 years or 24,000 miles